Just a week after his victory at Lake Balaton the strong Hungarian Ferenc Csima also won in Germany at Bergsee Ratscher. Along with local heroine, Lisa Teichert, he joins the list of winners after this, the 13th quadrathlon, which take place near to Schleusingen.
This traditional end of season event is always something to look forward to for many athletes. The special atmosphere early in the morning – when it is still cold and the mist is rising from the lake -contrasts with the warmth of the organisation team with their relaxed attitude to the competitors.
This year, the organizers TC Suhl, took on the extra role of acting as a WQF World Cup event at short notice (as had the Lake Balaton race the week before). Thus Saturday's race had both the German Sprint Championship and international points at stake.
In the women's race Lisa Teichert (GER) was expected to be the leading female and she duly secured a clear victory. Second place went to Susanne Walter (GER) who gradually pulled away from Heidi Seemann (GER) (third lady) all the way around the course.
As further evidence of what good form Lisa Teichert is in, she also took part in the Olympic distance triathlon a few hours before the Quadrathlon. Just treating this as a warm up and keeping something in reserve, she still managed to be second lady.
In the men's race it was an exciting race right up to the finish. In the lake, which was not exactly warm for the swim, Stefan Teichert and Stefan Griem (both GER) came out just ahead of Ferenc Csima (HUN). Teichert continued to lead on the undulating and slightly challenging cycle ride. Simon Petereit (GER) also put in a strong bike performance and caught up with Csima so that these two were just 2 minutes in arrears as second and third into the transition area. Then it was onto the water again where Csima showed his class, which Petereit, another strong paddler, could not quite match. Teichert was also unable to keep up and was overtaken in the third of the four disciplines by the Hungarian. By the end of the kayaking Csima was leading Teichart by more than a minute. Just behind was Petereit, being chased by Leos Rousavy (CZE). In the final leg Teichert tried hard to catch Csima but could not make up more than a few seconds and the Hungarian was able to celebrate his second victory in a row. Third place went to Rousavy who made good time running and passed Petereit shortly before the finish.
The International competition comes to a conclusion in two weeks' time with the Quadrathlon in Oslo. Leos Rousavy and Stefan Teichert will be fighting for third place in the World Cup. After his victory at Bergsee Ratscher, Ferenc Csima is now assured of second place, behind Enrique Peces (ESP).
by John Kavanagh
---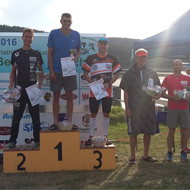 Top Five: Teichert, Csima, Roušavý, Petereit, Szabó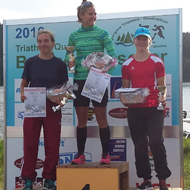 Three rapid women: Walter, Teichert, Seemann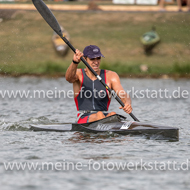 Ferenc Csima in paddling a dominator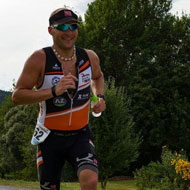 Leoš Roušavý creates the jump on the podium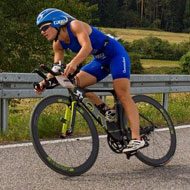 Lisa Teichert with Mamut program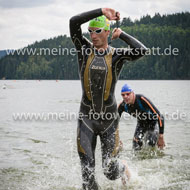 Stefan Teichert shortly before Stefan Griem
---
Results
Men
| | |
| --- | --- |
| 1. Ferenc Csima (HUN) | 1:29:39 |
| 2. Stefan Teichert (GER) | 1:30:16 |
| 3. Leoš Roušavý (CZE) | 1:32:49 |
| 4. Simon Petereit (GER) | 1:33:11 |
| 5. László Szabó (GER) | 1:36:08 |
Women
| | |
| --- | --- |
| 1. Lisa Teichert (GER) | 1:44:52 |
| 2. Susanne Walter (GER) | 1:52:50 |
| 3. Heidi Seemann (GER) | 1:55:39 |
| | |
| | |
---
Organizer Homepage
---
Older contributions