It's how life and the weather is in Europe! One week 40C the next 10C. That was the weather that the famous and always well-organized race greeted us athletes. In Bergsee Ratscher Germany.
The swim started with something unusual this season. A swim with a wet suit. All were happy with this decision as Stefan Teichert (GER) showed the field the way. In a pulp behind was David Kunder, Vaclov Sobotko, Peter Moysey, Christian Schmidt and top Favourite Leos Rousavy. Mixing it well was also Antje Fiebig (GER).
As the athletes entered the transition area the heavens opened and the bitter cold rain stormed down on the athletes. It was the tough bike course where Stefan Teichert pushed hard and time trialed to a commanding lead. Rousavy though was not losing touch. Kunder was turning those pedals well and showing how he has improved to move up to 3rd. Antje Fiebig was just amazing on the bike leg and was showing the men how to bike as Lisa Hirschfleder had given up after the swim-to cold and the season had taken its toll on her. Ellen Mielke pushed up the hills and down dale to show what an amazing athlete that she is.
Now the paddle course. The wind was up, the waves had started and with a load of kayakers on the 1.1km course life was not going to be easy. Just to add to that you had to count 7 laps. Athletes where capsizing and struggling as the cold wind bit into your skin. David Kunderer broke his rudder, then borrowed another kayak. This lead to a David being disqualified. Teichert extended his lead as Rousavy capsized and lost time. Simon Petereit moved up the field but decided he like kayaking so much that he would paddle another lap. Antje Fiebig also had outside help as she required two sandbags and put them in her kayak to help with the balance. That decision costed here a disqualification as outside help. Such a shame as her performance was world class. Gabrille Immendorf put in a top paddle performance to move into 2ndor as she did not know 1st.
The run started and although not the toughest course in the world, each lap you climb a few meters up the dam wall and you run on concrete. The body just loves this pain! Stefan Teichert began losing minutes as he struggled. Leos Rousavy strode past with a formidable run. The fight for 3rd was unfolding as Peter Moysey unleashed his strongest discipline and made inroads through the field. Christian Schmidt a man on a mission though was holding his excellent race together and held of Moysey for 3rd.The ladies race was sewn up by a perfect performance from Gabrielle Immendorf followed by Mrs. constant Ellen Mielke and Susanne Walther capped her hard season to finish 3rd.
Most of the athletes after the race where seen in winter jackets hats, and the hope that the summer is not completely gone.
by Peter Moysey
---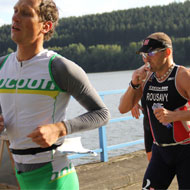 Stefan Teichert has no chance against Leoš Roušavý at the end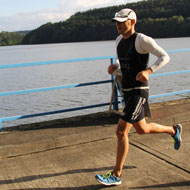 Great race from Christian Schmidt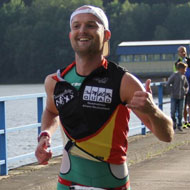 David Kunderer has fun, even if he already knows the DSQ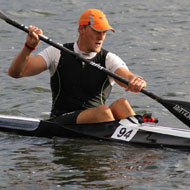 Simon Petereit, the fastest on the water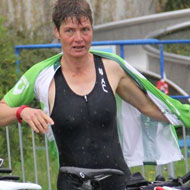 Gabrielle Immendorf despite the bad weather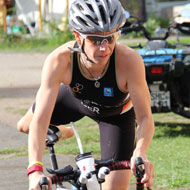 Disappointment for Antje Fiebig: DSQ after strong race
---
Results
Men
| | |
| --- | --- |
| 1. Leoš Roušavý (CZE) | 2:56:11 |
| 2. Stefan Teichert (GER) | 2:58:18 |
| 3. Christian Schmidt (GER) | 3:06:34 |
| 4. Peter Moysey (NZL) | 3:06:50 |
| 5. Simon Petereit (GER) | 3:10:13 |
Women
| | |
| --- | --- |
| 1. Gabrielle Immendorf (GER) | 3:28:18 |
| 2. Ellen Mielke (GER) | 3:39:15 |
| 3. Susanne Walther (GER) | 3:54:11 |
| | |
| | |
---
Organizer Homepage
---
Older contributions