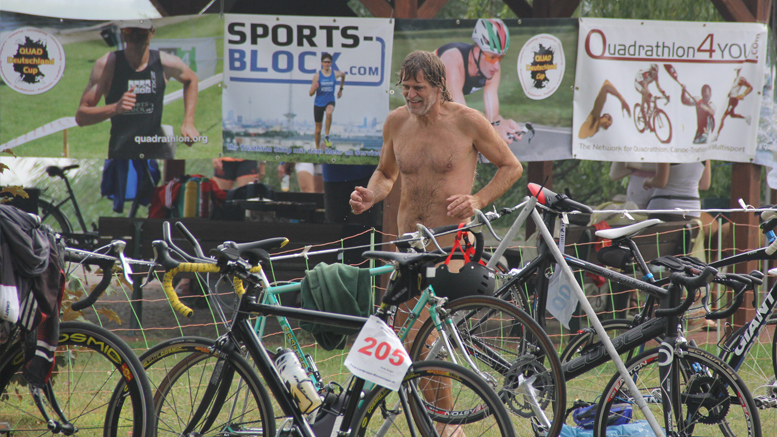 The Germany Cup powered by
Sports-Block.com
is performed by the
QUAD
(Quadrathlon Alliance Germany) as a series of events. Behind it stands the idea to unite the athletes in the related sports Quadrathlon, Canoe Triathlon, Hydrathlon and Multisports in a common classification and to arouse interest in the other sports.
Der Deutschland Cup powered by
Sports-Block.com
wird von der
QUAD
(Quadrathlon Allianz Deutschland e.V.) als Veranstaltungsserie durchgeführt. Dahinter steht die Idee, die Sportler der verwandten Sportarten Quadrathlon, Kanutriathlon, Hydrathlon und Multisport in einer gemeinsamen Wertung zu vereinen und so das Interesse an den jeweils anderen Sportarten zu wecken.
---
Races
Wettkämpfe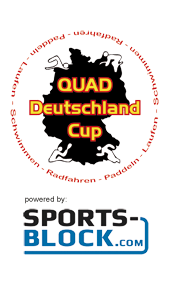 Diese Jahr gibt es leider keinen Deutschland Cup.
---
Rules
All German athletes who start at one of the competitions come automatically into the Cup. Prerequisite, however, is membership in the QUAD or a day licence, which can be purchased at the day of the competition. There is no limit to the number of competitions in which an athlete can participate. The best four results are analyzed.
For every competition every athlete can score points in the sequence of passing the finish line.
There are points for each event, which are composed of the following points:
Absolutely fastest competition time of a German / own competition time x 1000
From the age of 40, there are 20 age bonus points per competition, which increase by 10% per additional year of age (eg: 40=20, 41=22, 42=24,2, … 50=51,8, … 60=134,5), at U23 and younger it is the other way around
Female athletes receive a bonus of 80 points per race to compare virtually with male athletes
In addition, there are 100 bonus points per competition, who completed more than 4 competitions.
The scoring is done separately for women and men.
The overall winners will be honored with a Cup, the winners and runners-up in the age groups will receive certificates and medals.
There is also quality prizes form Sports-Block.com high quality prizes for at least 3 German Cup races.
Furthermore, a voucher of T&T Dragonboatevents worth about € 200 will be raffled among all who participated in at least 3 German Cup races. The voucher includes 1 hour of dragon boat trip with friends in the Berlin-Köpenick area or guided canoe trip in Berlin for 4 persons with overnight stay or guided canoe trip in approx. 100 km radius of Berlin-Köpenick for 4 persons without overnight stay.
* To the Canoe Triathlon in Munich and Kelheim, all starters of the race and touring class will be counted, if they are QUAD members or solving a day license on the spot. Partly apply deviating rules form the QUAD sport regulations.
Regeln
Alle deutschen Athleten, die bei einem der Wettkämpfe starten, kommen automatisch in die Cup-Wertung. Voraussetzung ist jedoch die Mitgliedschaft in der QUAD oder eine Tageslizenz, welche am jeweiligen Wettkampftag beim Veranstalter erworben werden kann. Die Anzahl der Wettkämpfe, an denen ein Sportler teilnehmen kann, ist nicht limitiert. Es werden die besten vier Ergebnisse gewertet.
Pro Veranstaltung gibt es Punkte, die sich aus folgenden Punkten zusammensetzen:
Absolut schnellste Wettkampf-Zeit eines Deutschen / Eigene Wettkampf-Zeit x 1000
Ab 40 Jahre gibt es 20 Alters-Bonus-Punkte pro Wettkampf, die sich pro weiteres Lebensjahr um jeweils 10% erhöhen (bspw.: 40=23; 40=20, 41=22, 42=24,2, … 50=51,8, … 60=134,5), bei U23 und jünger geht es entsprechend umgekehrt
Weibliche Athleten bekommen einen Bonus von 80 Punkten pro Rennen, um sich so virtuell mit männlichen Athleten vergleichen zukönnen
Zudem gibt 100 Bonuspunkte pro Wettkampf, wer mehr als 4 Wettkämpfe absolviert.
Die Wertung erfolgt jeweils getrennt für Frauen und Männer.
Die Gesamtsieger werden mit einem Pokal geehrt, die Sieger und Platzierten in den Altersklassen erhalten bis Platz drei Urkunden und Medaillen.
Zudem stellt Sports-Block.com hochwertige Preise für die an mindestens 3 Deutschland Cup Rennen teilgenommen haben.
Des weiteren wird ein Gutschein von T&T Dragonboatevents im Wert von ca. 200 € unter allen verlost, die an mindestens 3 Deutschland Cup Rennen teilgenommen haben. Der Gutschein beinhaltet 1 Stunde Drachenbootfahrt mit Freunden im Raum Berlin-Köpenick oder geführte Kanutour in Berlin für 4 Personen mit Übernachtung oder geführte Kanutour in ca. 100 km Umkreis von Berlin-Köpenick für 4 Personen ohne Übernachtung.
* Bei den Kanutriathlons in München und Kelheim kommen alle Starter der Renn-und Tourenklasse in Wertung, wenn sie QUAD Mitglied sind oder eine Tageslizenz vor Ort lösen. Zudem gelten z.T. von der QUAD Sportordnung abweichende Regeln.
---
Results and Total winners
Ergebnisse und Gesamtsieger
2019 – Results, Reports, Certificates
Torsten Bartzok (Essen)
Susanne Walter (Berlin)
Walter Nickol (Daadetal)
Lisa Teichert (Heidelberg)
Stefan Teichert (Heidelberg)
Lisa Teichert (Heidelberg)
Stefan Teichert (Heidelberg)
Lisa Teichert (Heidelberg)
Stefan Teichert (Heidelberg)
Lisa Hirschfelder (Heidelberg)
Stefan Teichert (Heidelberg)
Lisa Hirschfelder (Heidelberg)
Stefan Teichert (Heidelberg)
Lisa Hirschfelder (Heidelberg)
Stefan Teichert (Heidelberg)
Lisa Hirschfelder (Heidelberg)
Stefan Teichert (Heidelberg)
Ellen Mielke (Lampertheim)
Andreas Grabitz (Cottbus)
Ellen Mielke (Lampertheim)
2009 – Results
Stefan Teichert (Heidelberg)
Ellen Mielke (Lampertheim)
2008 – Results
Georg Fischer (Kelheim)
Sarah Jung (Saarbrücken)
2007 – Results
Stefan Teichert (Heidelberg)
Monika Rosenmeier (Gera)
2006 – Results
Stefan Teichert (Heidelberg)
Katrin Burow (Berlin)