After the world championships last week. Quadrathlon moved to Thüringen Germany. The organizer put on a great event as always. There was still points to collect for the world cup trophies.
The field was mostly filled up with German competitors and looked like it would be a top race with László Szabó and David Kunderer trying to top the favourite Stefan Teichert.
The swim saw Teichert take the lead ahead of Stefan Griem a top triathlete. David Kunderer was placed well and ready to strike on his best discipline. As he took to the tough bike course he looked in great form and it looked like it could be a three man race. Then onto the lake for the kayak leg. Saw a brilliant leg from Simon Petereit who moved into 2nd place with the fastest kayak time of the day. Stefan paddled well and took the lead back. The question was-could he hold to this small lead. Word was going around the Stefan was not completely healthy. The run leg saw him struggle through and Kunderer have a top race as he moved into 2nd place. Chasing hard as he always does on the run leg saw Szabó move into 3rd.
The ladies race saw Gabrielle Immendorf and Ellen Mielke fight the race out. Mielke took the lead after the swim. She held the lead also with a strong bike. Then came the kayak section which so often is the tough stage and Gabrielle caught Mielke up. Then with a super strong run we saw Gabrielle finish the race very strongly. Mielke finished in control and looked pleased with her 2nd place. Susanne Walter produced a good all-round race to finish 3rd.
So slowly the season comes to an end, but as usual Ratscher put on a classy race.
---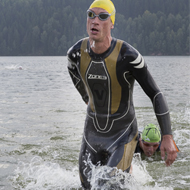 Teichert and Griem First out of the Water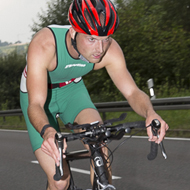 With pressure on the bike: David Kunderer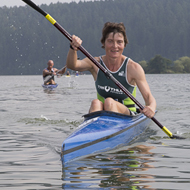 Gabrielle Immendorf secures victory in the womens race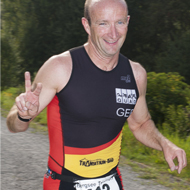 Always in a good mood: László Szabó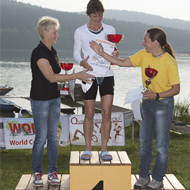 Shake Hands: Ellen Mielke, Gabrielle Immendorf and Susanne Walter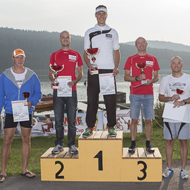 Top Five: Petereit, Kunderer, Teichert, Szabó and Schmidt
---
Results
Men
| | |
| --- | --- |
| 1. Stefan Teichert (GER) | 1:33:38 |
| 2. David Kunderer (GER) | 1:34:49 |
| 3. László Szabó (GER) | 1:35:09 |
| 4. Simon Petereit (GER) | 1:36:11 |
| 5. Christian Schmidt (GER) | 1:39:05 |
Women
| | |
| --- | --- |
| 1. Gabrielle Immendorf (GER) | 1:48:42 |
| 2. Ellen Mielke (GER) | 1:53:29 |
| 3. Susanne Walther (GER) | 1:55:51 |
| 4. Kerstin Rümke (GER) | 1:56:30 |
| | |
---
Organizer Homepage
---
Older contributions