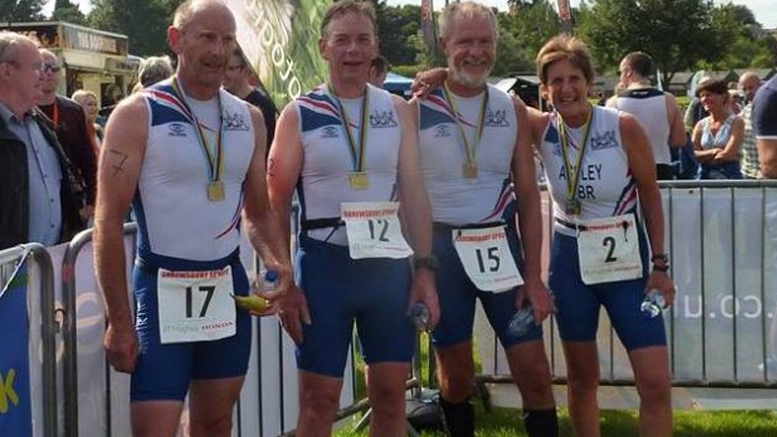 The British National Trophy is performed by the
BQA
(British Quadrathlon Association) as race series.
Die British National Trophy wird von der
BQA
(British Quadrathlon Association) als Veranstaltungsserie durchgeführt.
---
Races
Wettkämpfe
---
Rules
Each event contributes points towards finding a National Champion, with the best three results for each individual to count.
Trophies are awarded each year, provided each winner has done 3 races in the series, and must be a current BQA Member. (In the event of a tie the 4th race points will count to decide the winner)
Overall Winners Perpetual Trophy for Male and Female. BQA Kit vouchers for winners Male and Female in each category, Juniors (u23), Seniors, V40+ V50+. V60+
Eric Hatliff Memorial Trophy awarded each year 'For Endeavor' given to an athlete showing his enthusiasm and commitment to the sport of Quadrathlon.
Regeln
Jedes Ereignis bringt Punkte auf der Suche nach dem Nationalen Champion, dabei zählen die besten drei Ergebnisse.
Trophäen werden jedes Jahr verliehen, wenn jeder Sieger 3 Rennen in der Serie gemacht hat und ein aktuelles BQA Mitglied ist. (Im Falle eines Unentschiedens entscheiden die Punkte aus dem vierten Rennen)
Gesamtsieger: Trophäe für Männer und Frauen. BQA Kit Gutscheine für Gewinner Männer und Frauen in jeder Kategorie, Juniors (u23), Senioren, V40+ V50+. V60+
Zudem wird die Eric Hatliff Memorial Trophy jedes Jahr 'für Anstrengungen' eines Athleten vergeben, der seine Begeisterung und Engagement für den Quadrathlon zeigt.
---
Distribution of points
Punktevergabe
1. place – 120 points
2. place – 110 points
3. place – 105 points
4. place – 100 points
5. place – 99 points
6. place – 98 points
7. place – 97 points
…
102. place – 2 points
103. place – 1 points
---
Results and Total winners
Ergebnisse und Gesamtsieger
2022 – Results
Jules Taylor (Bristol)
Helen Adams
2021 – Results
Nigel Unwin (Bradford)
Helen Adams
2019 – Results
Billy Butler
Helen Russell (Worcester)
2018 – Results
Michael Masson (Durham)
Helen Russell (Worcester)
Julian Brewer (Woking)
Helen Russell (Worcester)
Steve King (Herford)
Jean Ashley (Chester)
Nigel Unwin (Bradford)
Jean Ashley (Chester)
2014 – Results
Ian Smith (Worcester)
Sharon Colley (Herford)
2013 – Results
Adam Norfolk (London)
Sharon Colley (Herford)
2012 – Results
Matt Stephenson (Stockport)
Jean Ashley (Chester)
2011 – Results
Steve Clark (Scunthorpe)
Alison Deykin (Stockport)
2010
Steve Clark (Scunthorpe)
Jean Ashley (Chester)