Antje Fiebig and Stefan Teichert where crowned world champions in the world quadrathlon Championships in the middle distance. In the lovely setting of Bergsee Ratscher in Thüringen, Germany. By ideal conditions the competitors battled over the distances of 1.5km swim, 40km Bike, and 9km kayaking and to finish 10km running.
The races had many favourites but no clear favourite. The Czech athletes are always to be watched, but the Germans had also trained really hard for this special day.
The start saw the strong swimmer Stefan Teichert take the lead from the first few strokes, he had an impressive lead of 60 seconds from a pack including Winfrid Eistert (GER) and Leoš Roušavý (CZE). On to the tough bike course saw the Czech Roušavý move into 2nd place. Teichert worked hard to keep his lead while behind him was a serious fight for the 3rd position. Youngster and new comer to Quadrathlon Ulmer David Kunderer came into the end of the transition area with a super 3rd position.
Into the kayak section Teichert had extended his lead to 1.20min ahead of Roušavý who was just about to enter his strongest disciplines. The kayak conditions were not going to be easy for the quadrathlets, side wind, side waves and a 7 lap course a challenge with so many racers on a tight course and with the challenge to remember to count 7 laps correctly. Teichert worked hard in his surf ski while Roušavý paddled hard in his racing K1. Luck was not Leo's side as he caught some side waves and capsized and swam. The race for the title was lost. He climbed back in his kayak and fought bravely on. The kayaker of the day was again Steffen Burkhardt (GER) in his special discipline. His surf ski slicing its way through the water with power and elegance. He moved up into 2nd place after his favourite sport.
As Stefan Teichert set upon his hardest discipline, the smell of victory was in the air. Although Roušavý had not given up and began to chase to produce the 2nd fastest run split of the day. Burkhardt was being chased down by the fastest runner of the day Michal Háša from Czech who produced a great paddle/run combination to win the bronze.
The day belonged to Stefan Teichert" it's unbelievable to win, especially in the region where I once lived. I only have dreamed of such a day. I feel for Leoš when he had not capsized it could have been another story!!
The ladies race was a one sided affair. From start to finish Antje Fiebig lead the way and gave the other ladies no chance. It's just a shame that this wonderful athlete from Germany does not appear more in other races.
The race for second was taken by Katrin Burow, after swimming well she then showed her strength on the bike overtaking Lisa Hirschfelder (both GER) and holding on second place. Lisa had a composed race but probably not what she had hoped for.
Again the German Stefan Barthel showed his class winning his age group 70+ and showing he has endurance and speed this year by winning both world titles this year.
The organisation was brilliant as always in Ratscher. A great feeling amongst the athletes all camping together and enjoying the social element of Quadrathlon that is so wonderful. Especially having closed roads to race on and a great lake to swim and paddle in. Perhaps a few less laps on the kayak would make it easier on the brain next year. Thanks Sebastian Diez and his great team. See you next year.
---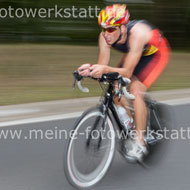 Stefan Teichert wins his first World Championship Gold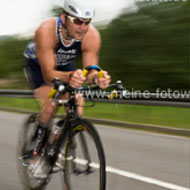 Nearly beaten: Leoš Roušavý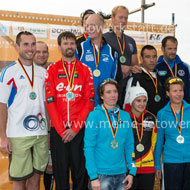 Nations rating: GER before CZE and ESP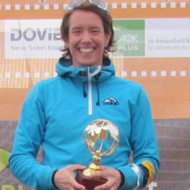 The stunning winner: Antje Fiebig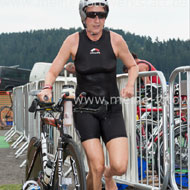 Katrin Burow goes on the bike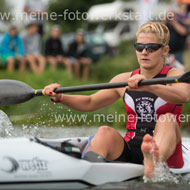 Lisa Hirschfelder reached place three
---
Results
Men
| | |
| --- | --- |
| 1. Stefan Teichert (GER) | 2:58:36 |
| 2. Leoš Roušavý (CZE) | 2:59:04 |
| 3. Michal Háša (CZE) | 3:00:12 |
| 4. Steffen Burkhardt (GER) | 3:01:48 |
| 5. Simon Petereit (GER) | 3:06:51 |
Women
| | |
| --- | --- |
| 1. Antje Fiebig (GER) | 3:15:22 |
| 2. Katrin Burow (GER) | 3:24:20 |
| 3. Lisa Hirschfelder (GER) | 3:32:21 |
| 4. Ellen Mielke (GER) | 3:37:27 |
| 5. Undine Weihe (GER | 3:43:59 |
---
Organizer Homepage
---
Older contributions