Last weekend the Quadrathlon community met at Lake "Ratscher" in Germany for the Sprint World Championships. In warm and dry conditions around 70 athletes competed over the distance of 0.75 km swim, 25 km bike, 4.7 km kayak and 5 km run. In the end, the Czech Leoš Roušavý and the German Antje Fiebig secured themselve the title after a thrilling race.
As expected before, Stefan Teichert from Germany took the lead while swimming. But on the new and rather hilly bike track with two turning points the young Englishman Tom Stead formed a strong group with Leoš Roušavý, Martin Busch (GER) and Stefan Hochstein (GER), who caught up with Teichert in the second lap, so that the last kilometers turned out to be a tactically controlled race. After reaching the transition area together in a five-man group, the two main favourites Roušavý and Teichert distanced themselve quickly from their followers. Meanwhile Steffen Burkhardt showed his strenght in the kayak and approached the top, with the fastest paddle time he reached the transition zone in the top three. The choice between Roušavý and Teichert fell on the final run. First, Teichert was still leading, but soon the Czech took the lead and successfully built up a comfortable winning margin. Teichert managed to keep his compatriot Burkhardt at a distance and finished second in the end.
Antje Fiebig clinched the title in the women's race. After leaving the water together with Lisa Maria Hirschfelder and Katrin Burow, she took the lead on the bike course. Even if Burow could keep close contact to her on the bike, Fiebig paddled fast and began the running-part with a comfortable four minute lead. Also on the hilly running track Fiebig extended her lead, but then she made a mistake by cutting short and missing the second lap – that's why the race got exciting again. Fiebig lost a few seconds, Burow came much closer, but nevertheless couldn't catch up with Fiebig, who finally crossed the finish line as the new world champion. The podium was completed by youngster Lisa Maria Hirschfelder, who had to accept her lag behind Burow on the bike.
---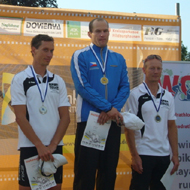 Stefan Teichert wins his first World Championship Gold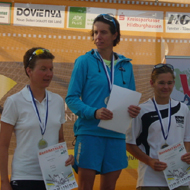 Burow, Fiebig and Hirschfelder
---
Results
Men
| | |
| --- | --- |
| 1. Leoš Roušavý (CZE) | 1:39:37 |
| 2. Stefan Teichert (GER) | 1:40:47 |
| 3. Steffen Burkhardt (GER) | 1:41:15 |
| 4. Michal Háša (CZE) | 1:42:19 |
| 5. Stefan Wegner (GER) | 1:43:49 |
Women
| | |
| --- | --- |
| 1. Antje Fiebig (GER) | 1:55:45 |
| 2. Katrin Burow (GER) | 1:56:22 |
| 3. Lisa Hirschfelder (GER) | 1:58:34 |
| 4. Silke Harenberg (GER) | 2:03:07 |
| 5. Ellen Mielke (GER) | 2:03:57 |
---
Organizer Homepage
---
Older contributions