The first quadrathlon of the British Trophy series and the third in this year's world cup was held on Sunday in Brigg. This is a small market town in Lincolnshire, a particularly flat part of the UK so it makes for fast racing. The weather was perfect, little wind, dry and sunny. The recent warm weather meant that the river was warmer than in previous years so the swimming conditions were also good.
Michael Mason (GBR) was second out of the swim (1500m) with about a minute advantage over the following group The Kayak section (7Km) was crucial as Michael, Nigel Unwin (GBR) and, particularly, Ricardo Noval (ESP) took a lot of time out of the rest of the field. Michael and Ricardo set of on their bikes neck-and-neck but from here on Michael steadily built up a strong lead with the fastest bike (35Km) and run (10Km) splits. Nevertheless, Ricardo, followed by Nigel were well clear of everyone else.
In the women's race, Helen Russell (GBR) was ahead of all the others throughout. Jean Ashley (GBR) was very strong, as ever, but Jaqueline Davies (GBR) was not so far behind her. It would have been closer if Jaqueline had not lost time due to a capsize at the awkward kayak get in.
This race is always superbly organised, a credit to the Lincsquad club. They make everyone very welcome and the marshals have smiles and encouragement for all the competitors.
by John Kavanagh
---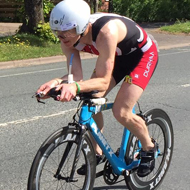 First in the finish: Michael Mason
Ricardo Noval with strong performance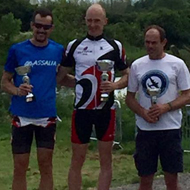 Men podium: R. Noval, M. Mason, N. Unwin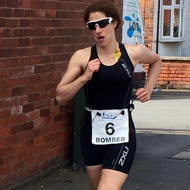 Great race form Hellen Russel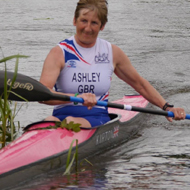 Still a fast woman Jean Ashley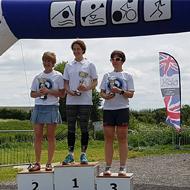 HWomen podium: J. Ashley, H. Russsel, J. Davies
---
Results
Men
| | |
| --- | --- |
| 1. Michael Mason (GBR) | 2:31:47 |
| 2. Ricardo Noval (ESP) | 2:41:58 |
| 3. Nigel Unwin (GBR) | 2:48:00 |
| 4. Jason Frary (GBR) | 2:56:40 |
| 5. Alen Cole (GBR) | 2:59:31 |
Women
| | |
| --- | --- |
| 1. Hellen Russel (GBR) | 3:02:13 |
| 2. Jean Ashley (GBR) | 3:13:23 |
| 3. Jacqueline Davies (GBR) | 3:19:52 |
| 4. Mary White (GBR) | 3:25:56 |
| 5. Victoria Price (GBR) | 3:38:46 |
---
Organizer Homepage
---
Older contributions