The Quadrathlon World-Cup that took place in the Slovakian city Samorín was again an exciting neck-and-neck-race between the Czech Leoš Roušavy and the German Stefan Teichert. They showed a fascinating competition consisting of 0.75 km swim, 20 km bike, 4 km kayak and 5 km running. Due to his good swimming performance Teichert took the lead from the beginning, in the second part Roušavy nearly caught up with Teichert, who then extended his lead on the kayak course. Finally the decision should be made on the 5km run: Roušavy won by a narrow margin of 18seconds in front of Teichert. The last podium place was claimed by the strong Michal Háša who races for the Czech Republic, too.
With his fourth victory in his fourth competition, Roušavy prematurely secured the overall World Cup once again.
In the women's race the Slovakian Dana Ivanovová prevailed thanks to a strong performance on the kayak course, where she could get ahead of the until then leading German Lisa Maria Hirschfelder. The third place went to Ivanovovás compatriot Diana Tešovicová.
In the World Cup Ellen Mielke, who finished fourth in Samorín, is still in the lead, but her compatriot Hirschfelder is really close on her heels.
---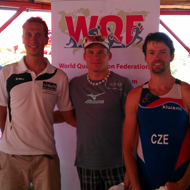 Teichert, Roušavy and Háša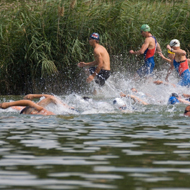 Start to the first discipline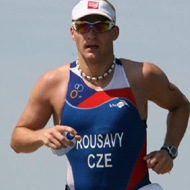 Leoš Roušavy wins again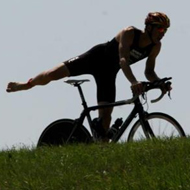 Teichert rising from the bike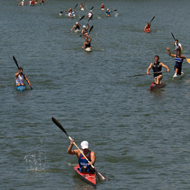 Much action at paddling
Dana Ivanovová change to the kayak
---
Results
Men
| | |
| --- | --- |
| 1. Leoš Roušavy (CZE) | 1:13:49 |
| 2. Stefan Teichert (GER) | 1:14:07 |
| 3. Michal Háša (CZE) | 1:15:12 |
| 4. Petr Susa (CZE) | 1:18:33 |
| 5. Maroš Dvorský (SVK) | 1:19:24 |
Women
| | |
| --- | --- |
| 1. Dana Ivanovová (SVK) | 1:23:11 |
| 2. Lisa Hirschfelder (GER) | 1:26:48 |
| 3. Diana Tešovicová (SVK) | 1:27:16 |
| 4. Ellen Mielke (GER) | 1:32:51 |
| 5. Veronika Danišová (SVK) | 1:39:11 |
---
Organizer Homepage
---
Older contributions