By what some would call typical British weather-Brigg North Lincolnshire put on a wonderful World championships (middle distance). Quality field of Top athletes and hardened masters.
After a false start – where the whole field was brought back, saw the nervous field start and a group of three form with Favorites Steve King, Tom Stead and German Stefan Teichert who strung the field out with a one minute lead at the end of this river swim.
After a very quick transition we saw King take the lead and with one of the fasters kayak splits to build a lead going into the bike. Teichert positioned himself well in second, but then had to let Mike Masson go into second place. 4th saw fasters paddle Adam Norfolk (GB) and the 5th Leoš Roušavý and youngster Stead in 6th.
On The bike King was steaming along and only built on his lead. Tom Stead On the bike was just a Machine and rode himself into a chance of a top placing with a bike time four minutes faster than anybody else. Behind saw Teichert, Rousavy, Norfolk, Masson and Steve Clark (local man) fighting out for the Podium.
In the run we saw King cruising and enjoying the win-although Tom Stead chased hard and showed he is the talent for the future finishing only 14 seconds down. Roušavý completed a good race to finish third.
The ladies race saw Favourite Lisa Hirschfelder come out of the water two minutes ahead. But then in the kayak we saw Sharon Colley paddle an incredible time that only five men could top. Also British lady Claire Moran put in a top paddle performance to move in to second place.
On the bike Hirschfelder caught Moran and cut the lead down from Colley. Colley pushed on hard in the run and kept her lead. Lisa (GER) put in a great performance to finish 2nd and GB finished on the podium again with Claire Moran's top performance.
Club Lincsquad did a sterling job in Cooperation with British Quadrathlon Sport to make a fantastic race and will deserved the title world championships. All good for the future of the great sport.
---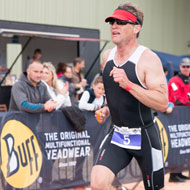 It was his day: Steve King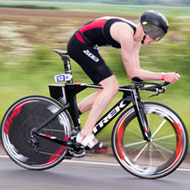 A machine on the bike Tom Stead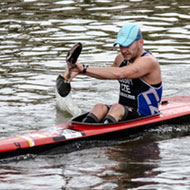 At the end on place three: Leoš Roušavý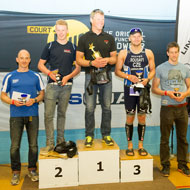 The Top Five: Mason, Stead, King, Rousavy and Norfolk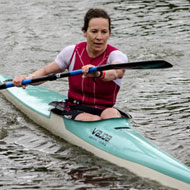 Secured the victory in paddling: Sharon Colley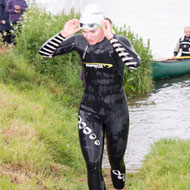 First woman out of the water: Lisa Hirschfelder
---
Results
Men
| | |
| --- | --- |
| 1. Steve King (GBR) | 2:32:02 |
| 2. Tom Stead (GBR) | 2:32:16 |
| 3. Leoš Roušavý (CZE) | 2:37:36 |
| 4. Adam Norfolk (GBR) | 2:37:45 |
| 5. Mike Mason (GBR) | 2:38:13 |
Women
| | |
| --- | --- |
| 1. Sharon Colley (GBR) | 3:01:30 |
| 2. Lisa Hirschfelder (GER) | 3:04:36 |
| 3. Claire Moran (GBR) | 3:16:15 |
| 4. Jean Ashley (GBR) | 3:18:12 |
| 5. Sarah Allars (GBR) | 3:22:03 |
---
Organizer Homepage
---
Older contributions