The WQF and the BQA wish to say 'Thank-you' and a big Congratulations to Lincsquad for putting on yet another very successful Brigg Bomber. A lots of compliments and messages from very happy Quadrathletes were told, all with very positive comments from their own race experiences, and as ever praising those wonderful marshals who turn out year after year, stand in the rain and encourage everyone! (it doesn't rain every year!) A Big Thanks to all Lincsquad who helped make this great race happen, and once again a very worthy World Cup and British National Quadrathlon Championships 2015!
Despite a lot of the WQF and BQA regulars missing due to other racing commitments and injury the racing was just as competitive and very exciting! First out of the swim was Junior Will Jackson about two minutes ahead of Michael Mason and Nigel Unwin. Mason showed his strength in the kayak and took the lead six minutes faster than anyone else in the kayak, he remained in the lead with a class performance on the bike. Unwin was a minute faster on bike, but Mason's running was in a class of its own and he won by an outstanding 10 minutes (2:34:51).
2nd place was secured by Unwin (2:45:30), whilst Phil Holden moved into 3rd (3:03:28) with the young Will Jackson just behind (3:03:41). In 5th place then was the oldest starter John Kavanagh V60 a superb performance showing us all 'age shows no bounds'.
A special mention must go to Jack Garner, who finished in 16 place, Jack who is blind is connected by a cord in swimming and running, whist biking on a tandem, and kayaking in double kayak – total respect!
In the women's race, Helen Dyke, the three-time world champion (2006-08) was back in Brigg. Helen and the previous year's third place, Claire Moran came out of the swim together, but strong kayaker Claire took the lead by 14 minutes in the kayak. After cycling Helen was 8 minutes behind, but with Helen's run, her strongest discipline to come she started to chase Claire down. It was only in the final straight that Helen moved into 1st place, a superb fight to the end! Helen (3:09:27) Claire (3:09:59). Third place went Sarah Allars (3:20:53) whilst Lincsquad's own Sallie Joesph came in a very creditable 4th (3:29:51). Sister to the Male Vet 60 John Kavanagh, Mary White also came in 5th winning the Female Vet 60 prize … good family genes!
There were plenty of PB's and personal achievements plus some exciting racing in the Team Event with TATA 340 from Scunthorpe taking 1st prize (2:44:17). Well done to all you Quadrathletes out there, and lets hope its another great start to your race season!
by Jean Ashley
---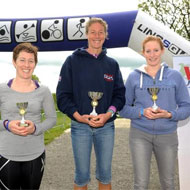 Strong women: Allars, Dyke and Moran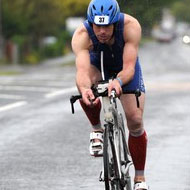 Nigel Unwin despite the bad weather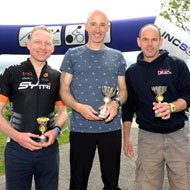 First men of the day: Holden, Mason und Unwin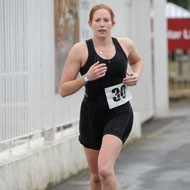 Here still leads Claire Moran…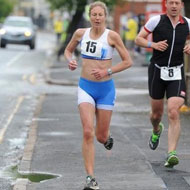 …but Hellen Dyke catch up her shortly before the finish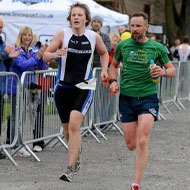 Jack Garner is led by his guide
---
Results
Men
| | |
| --- | --- |
| 1. Michael Mason (GBR) | 2:34:51 |
| 2. Nigel Unwin (GBR) | 2:45:30 |
| 3. Phil Holden (GBR) | 3:03:28 |
| 4. Will Jackson (GBR) | 3:03:41 |
| 5. John Kavanagh (GBR) | 3:07:01 |
Women
| | |
| --- | --- |
| 1. Hellen Dyke (GBR) | 3:09:34 |
| 2. Claire Moran (GBR) | 3:09:59 |
| 3. Sarah Allars (GBR) | 3:20:53 |
| 4. Sallie Joesph (GBR) | 3:29:51 |
| 5. Mary White (GBR) | 3:40:51 |
---
Organizer Homepage
---
Older contributions