hree things you can always guarantee about The Brigg Bomber, 1 – superb organization with the friendliest race crew and marshals ever, 2 – brilliant and exciting racing and 3 – a brilliant quality T-Shirt not a bike cleaning cloth! They did it again Lincsquad pulled off a Superb European Championships and we even had a dry day with some sunshine too!
It was so good to see lots of our GB athletes winning trophies, old names and new names alike, great to see paddlers David and Matt Oliver back racing Quadrathlon too. Our European athletes coped with the British weather and all produced superb results! There were plenty of keen Quadrathletes all embracing the challenge of four disciplines and enjoying this great championship race.
The start list in the men's race was very impressive 5 of the World's Best, plus plenty of top age groupers too. The Ancholme was a 'tad' chilly but with plenty of adrenalin flowing it soon warmed up, Stefan Teichert (GER) was first out 20.36 with Steve King (GBR) just seconds behind 20.42, then the top favourite Enrique Peces (ESP) 30 seconds behind. King and Teichert were paddling well close together it was only at the final bridge Peces overtook them both. GBR athletes Michael Mason and Adam Norfolk established themselves in the top 5 by paddling the fastest kayak splits, Mason 36.57 and Norfolk 37.14.
The bike course is fast and flat and King put in an excellent top split 54.48 giving him a great lead. Peces held onto 2nd with Teichert 3rd Mason and Norfolk were close behind going into the run where the final results were to be made! Peces running the fastest split of the day 35.25 went into the lead overtaking King at 3km. Teichert was closing on King, but on the second lap Mason was running strong and moved into 3rd place, leaving Teichert in 4th. Norfolk put in the 2nd fastest run of the day 36.12 to take 5th place … Quadrathlon Racing at its very best!
In the Womens event Lisa Teichert (GER) went into the lead from the start, new comer Sandra Hyslop (ex GB Team Wildwater Racer) came in 2nd after the swim. Sandra's kayak was the fastest split by 1 second 42.59. Jean Ashley having her strong kayak leg moved into 3rd place overtaking Helen Dyke. Lisa pulled away on the bike, whilst Jean started to close in on Sandra. However just like the men's race it would all be decided on the run leg! Lisa by this time was well and truly unstoppable! Sandra was holding onto 2nd place with Jean 3rd with one lap to go. Helen is known to us all for her epic running, and in true style running a 39.49 split, on the 2nd lap she over took Jean and finally Sandra to move into 2nd place.
So plenty of excitement for the spectators!
Congratulations to all finishers, especially U23 Jack Garner and his guides who came home in an amazing 3.31.41. There were plenty of BQA members flying the flag too, many of them taking Championship titles … a great start to the Season!
There were lots of other very creditable performances, and many personal goals achieved … I'm not quite sure what it is about our sport that makes it special, but every athlete that crosses the finish line has that little extra sense of achievement knowing they have just completed a Quadrathlon!
Once again a Big Thanks to 'Lincsquad' who certainly put the Brigg Bomber on the World Circuit in True Style!
by Jean Ashley
---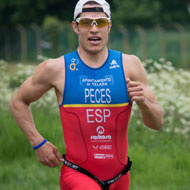 Back to winning ways: Enrique Peces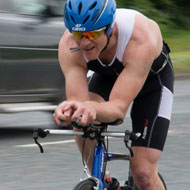 Steve King: secures second place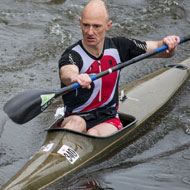 Fastest paddle and third place: Michael Mason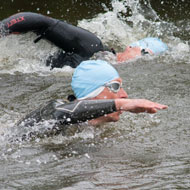 Stefan Teichert and Steve King swim at the front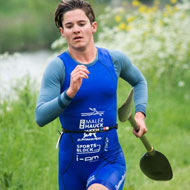 Lisa Teichert dominated the race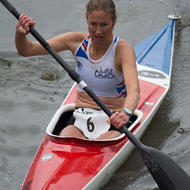 Hellen Dyke runs until in second place
---
Results
Men
| | |
| --- | --- |
| 1. Enrique Peces (ESP) | 2:32:50 |
| 2. Steve King (GBR) | 2:35:50 |
| 3. Michael Mason (GBR) | 2:36:31 |
| 4. Stefan Teichert (GER) | 2:37:09 |
| 5. Adam Norfolk (GBR) | 2:37:46 |
Women
| | |
| --- | --- |
| 1. Lisa Teichert (GER) | 2:54:17 |
| 2. Helen Dyke (GBR) | 3:13:37 |
| 3. Sandra Hyslop (GBR) | 3:14:52 |
| 4. Jean Ashley (GBR) | 3:19:05 |
| 5. Victoria Price (GBR) | 3:35:38 |
---
Organizer Homepage
---
Older contributions