After a six week break, the World cup Quadrathlon began its second leg for the 2014 season. The Šamorín Quadrathon which takes place from the Slovakian captail Bratislava. It was again a perfect weather day, almost too hot for a race.
By the 750m swim there was a wetsuit ban as the water in the side arm of the Danube was warm. The fastest swimmer of the day was Miroslav Ozorák (SVK) who had a super lead of 45sec, with last year's winner Miroslav Podborsky (CZE) in 2nd followed by Filip Petrla (SVK) and Leoš Roušavý (CZE).
On the bike course we saw Podborsky eating into the lead of the Slovakian with only a 15seconds behind he was in seeing distance of the leader, a massive incentive. Just behind we had two strong riders Roušavý and Petrla riding strongly and keeping themselves well in the hunt for the podium.
On the four lap 4km kayak course suddenly Michal Háša (CZE) was a major player in this interesting race with the fastest kayak split. Ozorák lost valuable time and Podborsky took the lead.
It would all be down to the run, a 4km run course that saw Podborsky the leader with knee problems, suddenly having to walk. He was been chased by a super second half charge from Háša. The run would too short for Háša as he fought to catch Podborsky. Podborsky was thrilled to take the victory by just 10 seconds. With an excellent race from Petrla to take 3rd.
By the ladies the race was a Slovakian affair. In the swim we saw Viktória Wiebauerová take a strong lead which she could not hold onto in the bike leg that saw Simona Mičušíková take the lead. The ladies field was strong with the top four athletes within 90second of each other. Mičušíková paddled well, but was being chased hard by Mária Bandžáková.
Now it would be down to a hard fought run. Bandžáková fought braverly to hold of Diana Tešovičová the fastest runner of the day to take the win and 3rd went to Mičušíková for what was a brilliant ladies race with the first three ladies within 18seconds of another.
---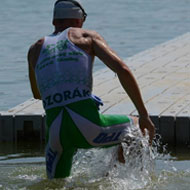 First out of Water: Miroslav Ozorák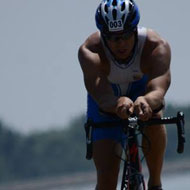 Filip Petrla manages the front runners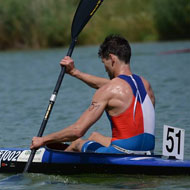 Great comeback of Michael Háša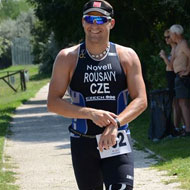 Only place four for World Cup Leader Leoš Roušavý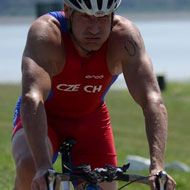 Hart fight for Miroslav Podborsky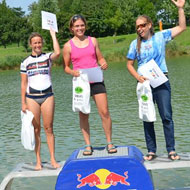 Top women: Mičušíková, Bandžáková und Tešovičová
---
Results
Men
| | |
| --- | --- |
| 1. Miroslav Podborsky (CZE) | 1:17:47 |
| 2. Michal Háša (CZE) | 1:17:58 |
| 3. Filip Petrla (SVK) | 1:18:30 |
| 4. Leoš Roušavý (CZE) | 1:19:33 |
| 5. Miroslav Ozorák (SVK) | 1:20:02 |
Women
| | |
| --- | --- |
| 1. Mária Bandžáková (SVK) | 1:30:22 |
| 2. Diana Tešovičová (SVK) | 1:30:32 |
| 3. Simona Mičušíková (SVK) | 1:30:41 |
| 4. Lucia Kvetakova (SVK) | 1:35:05 |
| 5. Viktória Wiebauerová (SVK) | 1:39:09 |
---
Organizer Homepage
---
Older contributions