Deseda Q30, the second run of the Hungarian Quadrathlon Cup was organized at Lake Deseda, located near the city of Kaposvar, on the first week of July. Athletes performed a sprint race of 750 meters swimming, 20 km cycling, 4.25 km kayaking, and 5 km running. Racers could complete the course among professional circumstances thanks to the perfect organization performed by Attila Peter and his team. The cycling route was completely isolated from the traffic, the swimming, kayak and running course was easily observable by spectators, the kayakdepo was set for everything kayakers would need, a pontoon opportunity was used for the kayak embarkation, refreshments stations and last but not least, the amazing cheers and spirited mood of the event was appreciated by everybody.
Many racers were participating in a quadrathlon event for the first time, while others were lining up to the start with considerable routine. The water was a comfortable, 24 degrees Celsius, and the swimming event was lead by the 22 year-old Tibor Lőrincz, followed by Ferenc Csima and Dániel Rácz. Csima then got ahead by 3 minutes in the cycling event, and was able to hold onto his gain for the rest of the race. Lőrincz assured a second place with his excellent kayaking and running performance, while Rácz completed the podium in the absolute race. Besides the first three everyone seemed to find his match during the race. The course was completed with one-on-one contests between athletes by many overtaking and finishes. The ladies' race was won by Fanni Bodolai, before Marianna Palmafy and Laura Csima.
The third and last sprint run of the Hungarian Cup will be held at Balatonakali at the end of August which is the Hungarian Championship for this distance.
Based on the capabilities of the course at Kaposvar, and the work performed by the team of organizers, Deseda lake can be a good place even for international races in the future.
by Ferenc Csima
---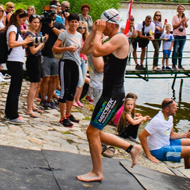 Rácz out of the water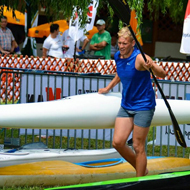 Lőrincz strong in swimming kayak and running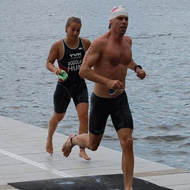 Horváth 2nd in masters followed by Bodolai 1st in womans race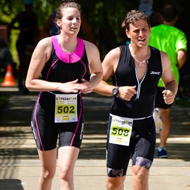 Fighting in duo Csima Laura vs Nagy Gergely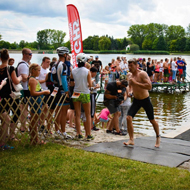 Spectators could follow everything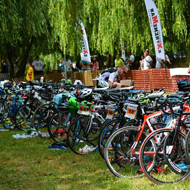 Bike depo
---
Results
Men
| | |
| --- | --- |
| 1. Csima Ferenc (HUN) | 1:27:38 |
| 2. Lőrincz Tibor (HUN) | 1:30:32 |
| 3. Rácz Daniel (HUN) | 1:35:35 |
Women
| | |
| --- | --- |
| 1. Bodolai Fanni (HUN) | 1:51:22 |
| 2. Pálmafy Marianna (HUN) | 2:04:25 |
| 3. Csima Laura (HUN) | 2:10:39 |
---
Video
http://kapos.hu/videok/kapos_sport_sportmusor/2017-07-03/kapos_sport_2017_julius_3_hetfo.html (At 6:02 minutes it start)
---
Organizer Homepage
---
Older contributions