Leos Rousavy has taken a commanding lead in the World Cup standings after winning his third Quadrathlon event in Tyn nad Vltavou, Czech Replublic. The win at the sprint distance event consisting 1 km swim, 5 km kayak, 25 km bike and 5 km run, means Leos is well on his way to defend his 2011 World Cup title. In second was fellow Czech, Michal Hasa who set the fastest times in the kayak and on the run. The young Czech athlete Petr Susa took on the podium.
In the women's race, Silke Harenberg from Germany, celebrated the win after a thrilling duel with her compatriot Ellen Mielke. This was Harenberg's first victory after having a baby. Klara Brenznova led the race after the swim, but was overtaken by the two German girls on the paddle section. Mielke lead the field after the paddle, but Harenberg fought back on the bike and it came down to the run to decide the win.
The next event on the World Cup calendar is Brigg Bomber in England. It is also the 2012 European Championship venue.
---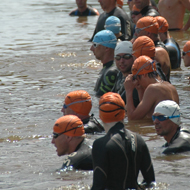 Start in Tyn nad Vltavou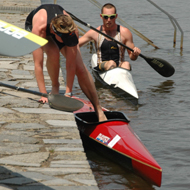 Silke Harenberg change into the kayak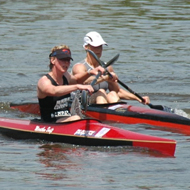 Fight between Harenberg und Mielke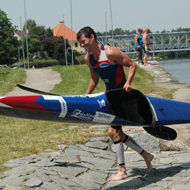 Strong paddle again: Michal Hasa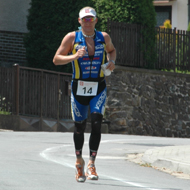 Leos Rousavy wins his third world cup in this year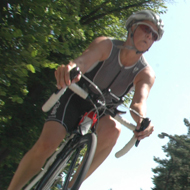 Ellen Mielke on the bike track
---
Results
Men
| | |
| --- | --- |
| 1. Leoš Roušavý (CZE) | 1:40:19 |
| 2. Michal Hasa (CZE) | 1:42:30 |
| 3. Petr Susa (CZE) | 1:45:49 |
| 4. Libor Mares (CZE) | 1:48:07 |
| 5. Roman Horacek (CZE) | 1:49:30 |
Women
| | |
| --- | --- |
| 1. Silke Harenberg (GER) | 2:00:12 |
| 2. Ellen Mielke (GER) | 2:03:38 |
| 3. Klara Brenznova (CZE) | 2:14:15 |
---
Organizer Homepage
---
Older contributions