Last year's world champions lined up for the quadrathlon middle distance race and were duly very impressive and completely dominant. Last weekend, Gergö Badar (HUN) and Lisa Teichert (GER) defended their titles in Orfü, Hungary (about 100km south of Lake Balaton) with 1.5km swimming, 40km cycling, 8km kayak and 10km running. At no time in the race was their victory questioned and in the end both had a huge advantage.
The weather gods were on the athletes side; although there was wind, clouds and rainstorms there was also lots of sun and, compared to 8 degrees and continuous rain in 2016, it was perfect conditions. Another change from last year, the quad- and tri- athletes started together, which did not always make it easy for them to know how they were placed in the race.
Before the race, strong competition was expected between the two best athletes, Gergö Badar and Enrique Peces (ESP). After the swimming this still seemed likely. Peces, who has improved in this discipline, was only 40 seconds behind the first swimmer (Badar). The bike route was challenging, with some poor road conditions, but the Hungarian was able to extend his lead by a further 4 minutes. Even in the kayak, Peces could not make up any significant amount of time and when it came to the run Badar built his lead to a total of 9 minutes over the second placed Peces! A truly impressive performance. Badar, who is also active as a professional in Ironman 70.3 races and who paddled as a child, showed what is possible when one is dedicated to sport.
Behind these two outstanding athletes was it exciting? Who completed the podium? Laurent Martinou was second to Badar in the swim and on the bike. The Frenchman then lost a lot of time and places in the kayak, although he has improved in this discipline. Ferenc Csima, after a good swim and bike performance went into his favourite discipline and achieved the fastest kayak time. A surprise was also the young Belgian William Peters, who was in fourth place with the second fastest paddling time. Martinou, meanwhile, went in the last discipline as seventh, but those who know the Frenchman know that the he can run and with the second fastest run split. This was not enough to overtake Csima, who secured third place overall by reaching the finish 15 seconds before Martinou.
In the women's race, Lisa Teichert won her 6th World-Championship-Title and gave an impressive performance on the bike and in the kayak and could afford to tackle the running at a relaxed pace. For some time now she has been unbeaten and this dominance is not simple to come to terms with – she would like to have more athletes who could compete with her at the same level. But with her degree of training and ambition, this is certainly going to be difficult – especially in a sport that offers such varied challenges in terms of training and logistics.
Second and third places were taken by Kata Balázs and Fanni Bodolai (both HUN). Initially, Bodolai was ahead after the swim and cycle, but Balázs overcame her in the kayaking and running. Both athletes are still very young and still have a lot of potential, which they hopefully will fulfill in the coming years. Unfortunately, some other young athletes could not take part in the race. Laura Csima (HUN) is currently suffering from knee problems, and the Slovakians were, at short notice, without a driver and could not travel to the venue.
After the World Cup kick-off in March in the Azores, the international series will reach its the third round in Brigg (GBR) on 28 May. A week later, the long-distance World Championship in Křetinka (CZE) will be exciting where the defending title holder, Thoralf Berg (GER), once again wants to be crowned the long-distance king.
by John Kavanagh
---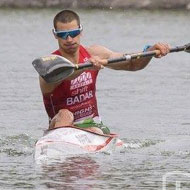 Gergö Badar, the new Podbosky?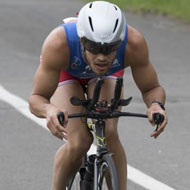 This time unfortunately had no chance: Enrique Peces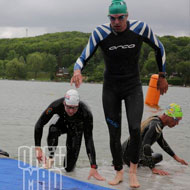 Ferenc Csima at the swim exit just before Peters and Teichert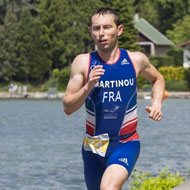 Laurent Martinou runs fast, but in the end is not fast enough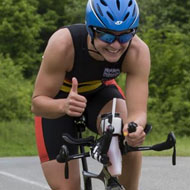 Lisa Teichert already during cycling confident of victory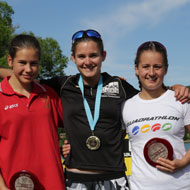 Top Women: Balázs, Teichert and Bodolai
---
Results
Men
| | |
| --- | --- |
| 1. Gergö Badar (HUN) | 2:40:33 |
| 2. Enrique Peces (ESP) | 2:49:23 |
| 3. Ferenc Csima (HUN) | 2:53:06 |
| 4. Laurent Martinou (FRA) | 2:53:21 |
| 5. William Peters (BEL) | 2:55:04 |
Women
| | |
| --- | --- |
| 1. Lisa Teichert (GER) | 3:18:45 |
| 2. Kata Balázs (HUN) | 3:51:20 |
| 3. Fanni Bodolai (HUN) | 3:56:38 |
| 4. Eszter Szabó (HUN) | 4:16:54 |
| 5. Dóra Trábert (HUN) | 5:15:40 |
---
Organizer Homepage
---
Older contributions