As well as the first Quadrathlon of the 2016 World Cup, middle of may saw the middle-distance World Championship take place in Orfü, southern Hungary. On Friday the weather was glorious, but on Saturday it rained for nearly the whole day and the temperature was only eight degrees. It was far from ideal for the first World Championship in Hungary.
But complaining did not help, and at 11am the race began with the 1.5km swim over two laps. The shallow lake had warmed up during the previous days, so that the temperature for the swim was bearable. Soon after the start Gergő Badar took the lead, and he stayed at the front until the finish. The Hungarian had already been spotted last year because of his third place finish in the Sprint competition at Balaton. The current and former female World Champion Lisa Teichert (née Hirschfelder) was out in front after the swim, with the two Hungarians Lilla Horváth und Laura Csima closely following the German. In the men's competition, Laurent Martinou, from France, and Stefan Teichert, from Germany, were chasing Badar, followed by former World Champion Enrique Peces, from Spain.
The 40km one-lap bike route was already challenging without the testing conditions because of the climbing involved on uneven roads. Due to the rain, the course was extremely slippery. However, Badar and L. Teichert managed the situation better than the others and this is where they laid the groundwork for their victories. Martinou was in second place, followed by Peces, S.Teichert and Leoš Roušavý. Troubled by the cold, S. Teichert could not continue after the bike leg.
To make matters even worse and to add to the cold and the rain, the 8km three-lap kayak course was badly affected by strong winds. The winner of the women's race described it as follows: 'Stay focused, concentrate, and don't capsize.' She managed to maintain her lead ahead of Horváth. In the men's race, Peces, in second place, could not reduce the gap with the leader, although he did increase the gap with third-placed Roušavý.
The athletes were able to warm up a bit during the final discipline. The run around the lake and a short second lap came to a total of 10km. The overall rankings did not change during this final leg, although the distances between the athletes grew. Frenchman Martinou came in fourth. At the end, the prize-giving for the World Champion took place, of course, in the rain.
A big thank you to Adam Schmuck and his team for organising a good event despite the weather. By the end they were as wet as the athletes.
by Guy Collender
---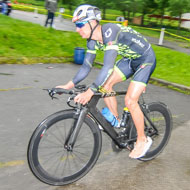 New World Champion: Gergő Badar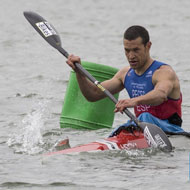 Fight for every second: Enrique Peces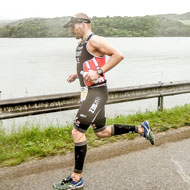 Once again on the Podium: Leoš Roušavý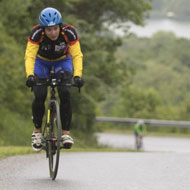 Lisa Teichert, first title under a new name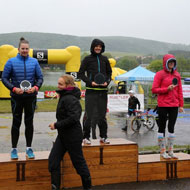 Women Podium: Lilla Horváth, Lisa Teichert, Laura Csima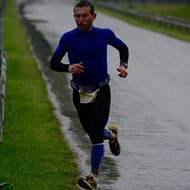 Fast Frenchman: Laurent Martinou
---
Results
Men
| | |
| --- | --- |
| 1. Gergö Badar (HUN) | 2:44:15 |
| 2. Enrique Peces (ESP) | 2:49:44 |
| 3. Leoš Roušavý (CZE) | 2:55:02 |
| 4. Laurent Martinou (FRA) | 3:02:40 |
| 5. Istvan Varga (HUN) | 3:02:54 |
Women
| | |
| --- | --- |
| 1. Lisa Teichert (GER) | 3:19:50 |
| 2. Lilla Horváth (HUN) | 3:33:42 |
| 3. Laura Csima (HUN) | 3:56:21 |
| 4. Anna Bognár (HUN) | 4:01:31 |
| 5. Kata Balázs (HUN) | 4:23:04 |
---
Organizer Homepage
---
Older contributions