With great weather and a lovely atmosphere, Sprint Quadrathlon found itself again on a lakeside last weekend. The popular Lake Balaton in Hungary, with the experienced organizers, Ádám Schmuck and his team, was a winning formula which attracted many starters. At short notice, the race was also a Quadrathlon World Cup event, after volunteering to replace one that was cancelled.
The hot favorite was the Hungarian, Ferenc Csima, who recently took a strong second place in the European Sprint Championship Quadrathlon. Now on home ground, he took the lead, right from the start, with the fastest swim. He kept himself in front on the bike course, which had a really good surface but with some technical twist and turns. István Varga, his fellow Hungarian, was the only one to ride as fast and managed to close the gap a little. Then followed by the kayak paddle which is a specialty of Csima. This gave him about a 5 minute lead going into the final discipline where he set off running, with Varga as his first pursuer. The run settled the matter, with Csima as victor, Varga second and the kayaking of Mátyás Gröger earning him the final podium position.
Katalin Partics was the first female and second overall to reach transition after the swim. About 1minute 20 seconds later, Feranc Csima's daughter Laura arrived in hot pursuit. On the bike, Partics extended her lead to about 4 minutes from her two younger pursuers, Fanni Bodolai and Laura Csima. Then their paddling strength came into play and enabled them to overtake Partics. Going into the run, Cisma was now leading and hoping to match her father with a win, but Bodolai managed to move ahead in the last minutes. Not far behind, Partics secured third place.
The next World Cup race in only next weekend at the mountain Lake Ratscher. Already registered are Ferenc Cisma, Leos Rousavy (CZE) and Stefan Teichert (GER). All three are very close together in the World Cup standings and fighting for the two podium positions behind the now unbeatable Enrique Peces (ESP). It will be exciting.
by John Kavanagh
---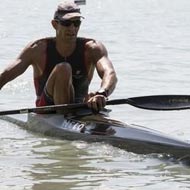 Ferenc Csima wasn't to beat at Lake Balaton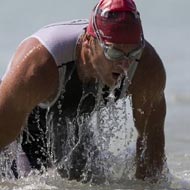 István Varga on the bike the fastest, an the finish place two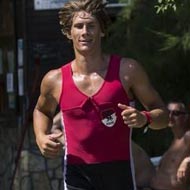 Mátyás Gröger jumps on the podium thanks a strong kayak time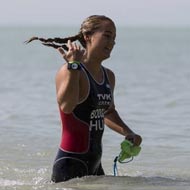 Fanni Bodolai crowned their catch-up chasing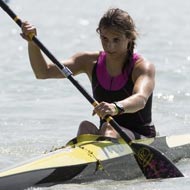 L. Csima secures 2nd and also 2nd place in the final World Cup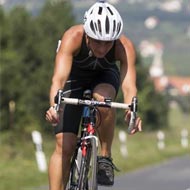 Katalin of Partics is leading the race in the first two disciplines
---
Results
Men
| | |
| --- | --- |
| 1. Ferenc Csima (HUN) | 1:33:08 |
| 2. István Varga (HUN) | 1:36:50 |
| 3. Mátyás Gröger (HUN) | 1:38:34 |
| 4. Botond Dull (HUN) | 1:42:26 |
| 5. Dániel Rácz (HUN) | 1:44:38 |
Women
| | |
| --- | --- |
| 1. Fanni Bodolai (HUN) | 1:53:11 |
| 2. Laura Csima (HUN) | 1:54:17 |
| 3. Katalin Partics (HUN) | 1:56:16 |
| 4. Viktória Kálmán (HUN) | 1:58:42 |
| 5. Kata Balázs (HUN) | 2:11:36 |
---
Organizer Homepage
---
Older contributions