Last weekend the Spanish Quadrathlon Championships took place in Aguilar de Campoo (Northern Spain). The lengths of each discipline were very short this time, which gave expectations of an exciting race. The distances were 500m swimming, 2km kayak, 13km MTB and 3km running.
The leading favourite, Spaniard, Enrique Peces, had been unable to defend the Spanish championship last year because of a crash, so he was keen to secure the title this time. But this year it was not to be his race either. While swimming and kayaking at the front, together with Ruben Tuset, he went into the lead on the MTB but snapped his chain and was unable to finish.
Thus, the way was free for Ruben Tuset, who went on to take the victory. Second place (as last year) went to Damian Vindel. Last year's winner, Alberto Cebollada, was not racing.
As has been the case previously, Ana Ruz was fastest amongst the women. The strong Spaniard would certainly be a serious competition for the German Lisa Teichert, who is currently dominating internationally.
by John Kavanagh
---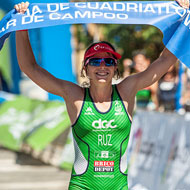 Ana Ruz dominates again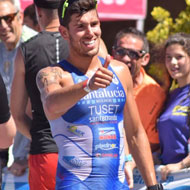 Ruben Tuste: new Spanish champion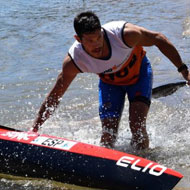 Enrique Peces: After the kayak still everything under control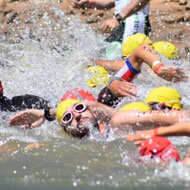 Start of the race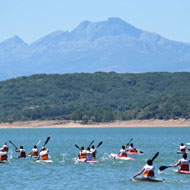 Kayak track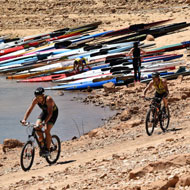 Transition from kayak to MTB
---
Results
Men
| | |
| --- | --- |
| 1. Ruben Tuset (ESP) | 1:02:19 |
| 2. Damian Vindel (ESP) | 1:04:20 |
| 3. Álvaro Sabater (ESP) | 1:07:28 |
| 4. Iosu Gil (ESP) | 1:08:02 |
| 5. Francisco Rodriguez (ESP) | 1:08:23 |
Women
| | |
| --- | --- |
| 1. Ana Ruz (ESP) | 1:12:37 |
| 2. Estibalitz Ruíz (ESP) | 1:20:18 |
| 3. Gema Fernandez (ESP) | 1:23:50 |
| 4. Alicia Araujo (ESP) | 1:24:55 |
| 5. Amalia Grobas (ESP) | 1:29:08 |
---
Organizer Homepage
---
Older contributions